Hace un tiempo a través de una amiga (hola Lydia!!) descubrí EntreMagdalenas. Aunque no soy muy dulcera, decidí apoyarla con un 'me gusta' en fb porque me pareció un buen proyecto (sus dulces tienen una pinta que flipáis!) y por el buen rollo que transmitían sus status, pero sobre todo porque se veía que detrás había una persona emprendedora, luchadora, con saber hacer y con muchas ganas.
Some time ago I found out EntreMagdalenas trough a friend (Hi Lydia!!). Though I'm not one to eating cakes very much, I decided to support her with mi 'like' in facebook because I saw a good project (her products look soooo nice!) and the good vibes that her status transmit, but mostly because behind there's a doer, fighter, an eager person with know-how.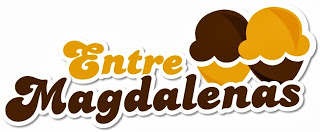 Al tiempo, me llevé la sorpresa de recibir un email de Ester, la reportera dicharachera de EntreMagdalenas, haciéndome un encargo que no era un encargo cualquiera! Era 'El Delantal de EntreMagdalenas', su uniforme de trabajo, la prenda que la acompañará en la cocina (y a veces fuera de ella)!

Some time later, I got the surprise of receiving an email from Ester, the confectioner of EntreMagdalenas, placing an order that was not an order like any other, it was 'The EntreMagadalenas apron!, her uniform, the garment that she will wear at the kitchen (and out of it!)
Así que nos intercambiamos unos mails, manos a la obra y voilá!
So we crossed some emails, I got to work and voilá!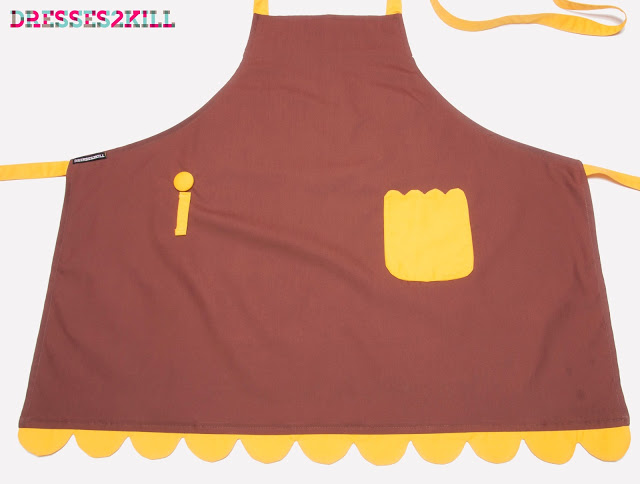 Ester me comentó que se había quedado prendada del vestido Zahara de la colección 'Háblame del Mar' de Dresses2Kill, así que transportamos el bajo de ondas del vestido al delantal, que además tiene la misma forma que los cupcakes del logo de EntreMagdalenas (perfecto!):
Ester told me that she loved the Zahara dress from the Dresses2Kill collection 'Hablame del Mar', so we  took the waved bottom to the apron, that is exactly like the cupcakes on the logo (great!):
Además de un bolsillo con ondas, lleva incorporado un botón forrado a mano y una trabilla cuelgatrapos (100% útil!):
Apart from a waved pocket, it has a handmade cover button and a belt loop to hang the dish clothes (100% useful!): 
Y ya sabéis que para encargos personalizados, podéis escribir a floren@dresses2kill.com.
For custom orders like this one, you can email me at floren@dresses2kill.com. 
---