Un evento de tal magnitud como la boda de la hermana de una requiere un vestido de invitada perfecta (of course!), bonito, elegante y cómodo a la vez. Y esto fue lo que hicimos para Bego: Un vestido largo, con una forma que estiliza la figura como ninguno, con escote halter cruzado en V anudado al cuello y con cola en la parte de atrás. La novia acompañó a su hermana a la prueba y se fue encantada, así que todos contentos! 
An event of such magnitude requires a perfect-wedding-guest dress (of course!), beautiful, elegant and comfortable at the same time. And this was what I made: a long dress that shapes the body as no other, with V crossed halterneck and a train. The bride came with his sister the fitting day and was delighted. So everyone happy!


El día que vino Bego a recoger el vestido aproveché para hacerle unas fotos a los zapatos que llevaría porque no pueden gustarme más! Y lo cierto y verdad es que Bego estaba es-pec-ta-cu-lar con el conjunto!
When Bego came to pick her dress up, I took advantage to take a picture of her wonderful shoes! The truth is that she was espectacular in her outfit!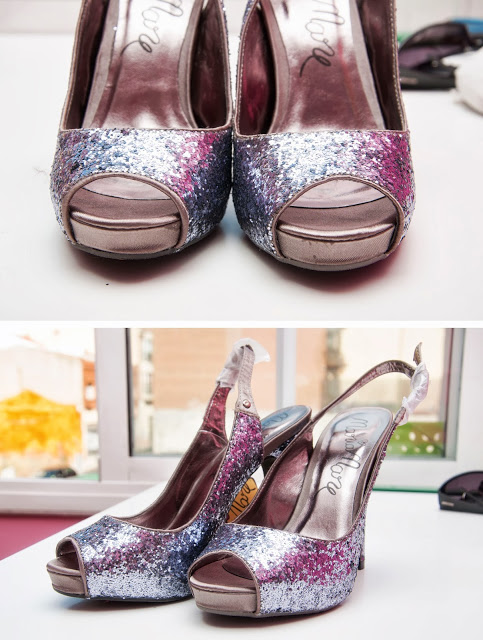 Y no es la única que llevará Dresses2Kill en esa boda porque, atentos: su chico, un real rocker, va a partirlo todo con una corbata de calaveras (me  ha dicho un pajarito que está encantado con ella!), y Hugo su bebé de 3 meses, con una pajarita de calaveras a juego con su padre. Y lo mejor: el outfit de los dos irá a juego con los respectivos complementos y no al revés! Cosas como esta son las que hacen que todo cobre sentido!
And she wion't be the only one wearing Dresses2Kill in that wedding: her partner (a real rocker) will be wearing a skulls&roses tie and their 3 months baby will weat a skulls&roses bow tie matching his father. The best of all is that the rest of their outfit will be chosen matching their accesories, not the opposite! Things like this make everything makes sense!
Y tú que estas leyendo esto, recuerda que si quieres tu vestido de invitada perfecta, tu corbata de invitado perfecto o tu pajarita de bebé perfecto, sólo tienes que escribir a floren@dresses2kill.com!
Hey, you reading this, if you want a perfect-wedding-guestdress, tie or bow tie you just have to email me at floren@dresses2kill.com!
---